Published on September 23, 2020
As your residents age, their body may experience many changes, but this doesn't mean they should become inactive or less social. It is important to adapt games to their mental, physical, and emotional capabilities. This makes the activities more fun and enjoyable.
Games allow residents to still get the arm and leg movements that you like to provide in your Exercise Class while having fun. They also provide opportunities for fun competition as well as prizes that can be used as motivation. If you want to add more exercise to the games, simply alter the games by having residents stand when it's their turn to play.
Here are some games to add to your activity calendar this winter during lockdown:
Tennis Ball Race
This game increases muscle strength and hand-eye coordination. Your loved one will not use racquets when playing this game. Instead, he or she will use two tennis balls to pass around. The objective is to pass one ball as fast as possible so it can catch up with the other ball. Whoever ends up with both balls in their hands will be out of the next game.
Keep Away
Using a large beach ball, toss the ball over the head of the person who has been deemed "it." The objective of the game is to keep the ball away from the person who is "it," and to avoid becoming "it." The good thing about this game is that seniors with visual impairment can also participate by simply attaching bells to the large beach ball.

Musical Ball
Players of this game need to sit down in a circle and pass around a big beach ball. When the music is played, the ball must be passed around. The player holding the ball when the music stops will be given a point. The player with the least amount of points at the end of the game will win. Residents can increase their overall strength and agility when playing musical ball.
Frisbee Golf
Show residents how to combine the sports of Frisbee throwing and golf with a fun game of Frisbee Golf. To play the game, set up the golf flags on the floor around the room, and have residents toss the discs so that they land around the flags.
Dice Rolling
Teach your residents how to shoot dice while getting a great arm workout. Provide residents with jumbo inflatable dice to roll to play a fun game of Beat That. To play, have each participant roll two dice, one at a time to get a score. So if the first roll is a 4 and the second roll is a 1, then they have a score of 41. Next, have another player roll the dice to see if they can beat that score.
Bowling Ring Toss
Have fun with residents as you teach them how to play bowling ring toss. To play, divide residents into teams, and pass out large rings for residents to throw to encircle the pins to accumulate points.
Fly Swat Tennis
Leave the plastic tennis rackets in your activity cupboard and instead have residents use fly swatters to swat balloons back and forth for a fun game of Fly Swat Tennis. Set up your tennis net and provide seated residents with the swatters to hit an inflated balloon over the net.
Smash It Ball
Demonstrate to residents how they can play Smash It Ball – the fun game of volleyball without the net. Simply place a hoop on the floor and have residents bounce a ball back and forth so that it bounces within the hoop.
Catch Disc
Get residents together to play a game Game On Catch Ball and Disc. Divide residents into pairs, and encourage them to show off their curve balls and sliders to one another.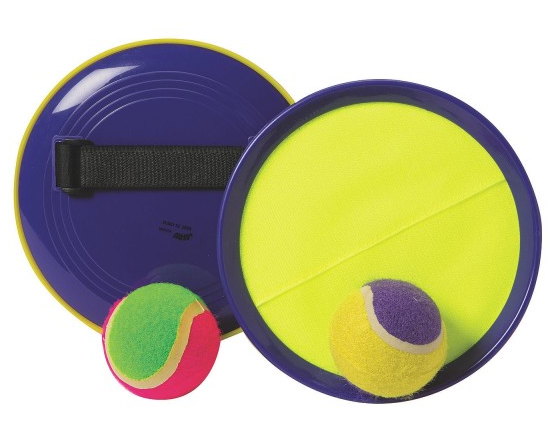 To read our blog post on how sensory activities can boost memory click here